Personalised running vacation review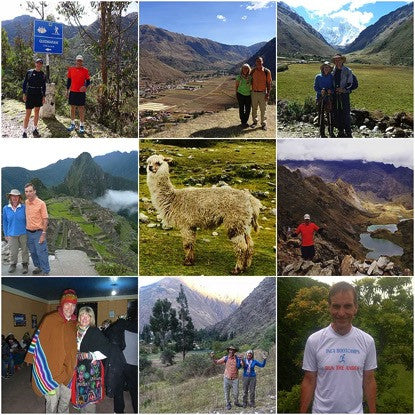 Ever wondered what a personalised running holiday in the Andes might entail? Well we were lucky enough to provide Steve with a weeks Personalised Run the Andes running holiday back in May 2016.
To say he enjoyed it was an understatement, so we thought we would let Steve tell you what he thought of it all:
"Peru has always been on my list of destinations that I have wanted to visit for many years. I was looking for a holiday where I would be able to do some running but as my wife was also with me it would have to have a tourism aspect as well. We came across Peru Fitness Holidays online and as our holidays dates didn't match with their group holiday dates, we got in contact about their personalised running vacations. After getting in touch with Dan he came up with a weeks personalised tour of the Sacred Valley and Machu Picchu.
My wife isn't a runner, so Dan was able to personalise the holiday so a lot of the running was done in the mornings and the afternoons were free for us to go sightseeing.
We spent one night in Cusco before going to Pisaq and Huaran, which were our main bases.
Coming from the UK, I was slightly apprehensive about the altitude. We had two days in Cusco by ourselves and we took those days steady with only a walk up to Cristo Blanco to test the altitude. When the tour began with Dan, it started with a gentle run out along the river in Pisaq, this seemed fine and Dan was able to use it to gauge my fitness and to personalise the upcoming runs. (I should make the point that I am 59 years old and am a regular runner.) Although my breathing was raised at times and I was running slower than what I normally would, I felt perfectly fine and we ran about 6kms.
Everyday we ran different routes, some days running along old Incan paths, other days along the Urubamba river and others running into the countryside past small communities. The scenery was different every day and very impressive. At home I generally run 4-10 miles, and the majority of the runs were within these distances. The highlight for me though was when we travelled to Lares. I got out with Dan in the small community of Collana, whilst my wife travelled to Huacahuasi, another community on the other side of the mountain range. We ran through a couple of communities before we started the climb to the pass, which was at 4,400metres. I have never previously been this high and the steeper parts we walked. This gave me the chance to soak in the scenery of mountain top lakes and an abundance of llamas. It was just Dan and myself the whole way, with the occasional glimpse of a shepherd watching over his herd. In total we ran 13 miles and we finished in hot springs, where we spent 90 minutes just soothing our muscles. The scenery was truly fantastic and it probably was some of the best scenery that I have run in.
My wife, walked with Melissa, who is also from Peru Fitness Holidays and they walked along the Lares trail for 9km also finishing in the hot springs. From her photos, the scenery was just as impressive as what we encountered. The journey back from Lares, is also impressive and we were glad to have a very competent driver in Marvin, as some of the roads were very narrow.
The accommodation was also very good with the highlight being the IFK Lodge in Huaran. The room was really nice, overlooking the river and it had one of the comfiest beds I have ever slept in. The food in the restaurant was delicious and well presented and the 'Superior American breakfast' really set you up for the day. 
We finished our trip with a visit to Machu Picchu, we spent the night in Aguas Calientes and in the morning Dan had a guide waiting for us. He spent 2 hours giving us a detailed tour of the site.
Overall, the tour was professionally managed and a truly memorable experience. Dan and the staff of Peru Fitness Holidays, seemed to do everything in their powers to make this a perfect trip. Dan even brought his massage bed (he is a trained massage therapist) and gave me a sports massages for no additional costs, after the Lares run. Furthermore, everything was included, the only thing that we spent money on the whole trip was buying some gifts for family back home and my wife bought several alpaca jumpers. 
I wouldn't hesitate for a second to recommend Peru Fitness Holidays and I am sure I will be back to explore another part of Peru with Peru Fitness Holidays. Thank you for giving us such a wonderful holiday."
Thanks Steve it was a pleasuring having you with us.
1 Response
Leave a comment